Magisk Manager term is very familiar to us in these days mostly who were associated with the word Rooting. Magisk Manager is the best alternative for the Chainfires SuperSu. So many of us still using SuperSu binary for rooting Android devices because it is popular and Everyone Suggested this method only for the rooting device. But Google added a few security measures on an android marshmallow or later.
It causes some issues for Rooting process, and that measures prevent the Superuser daemon to do its job. So, Chainfire developed the Systemless root method for the Android devices. Probably you may think that What is system less rooting? This method involves in the process of rooting the android without doing any system partitions so that it named as Systemless root.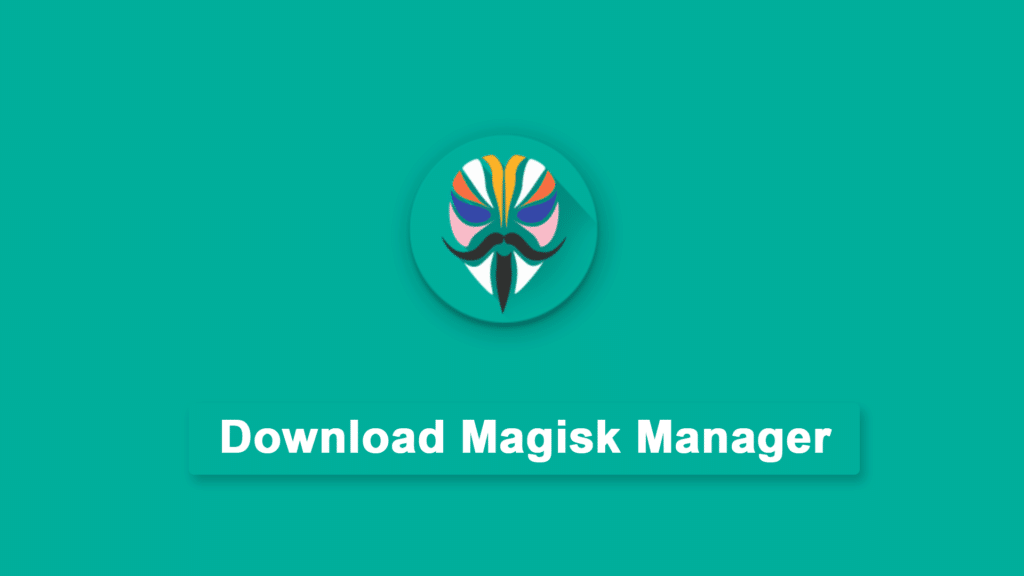 In this race, so many other developers follow the same procedure for rooting android. topjohnwu is one of them who was made the system less Xposed framework. (Recently Xposed framework for android nougat has released Unofficial By PurifyOS team.) Then it leads to doing Magisk which is also known as Magic Mask.
What is Magisk Manager
Magisk Manager is an Android app that will help you to Manage the Systemless Modules and Root Privileges. topjohnwu is the developer of the app, and he is a senior member XDA forums. Why is it so popular now? So many modules are developing day by day for this Magisk Manager app that will help you to pass google Safetynet check.
Some of the play store apps don't allow to run on the rooted devices in these days. Those apps follow the safetynet check and allow the users after passing the Google's SafetyNet API. You may face this situation while using banking applications, Pokemon Go, and Netflix.
To run those kinds of application, you need Magisk Manager app if you have rooted device. By enabling the magisk hide on the app, you would able to run whatever application you need which cannot work on rooted devices.
How to Download Magisk Manager Latest Version
Download Magisk Manager app from below link. Sadly this app was removed from the PlayStore because violating the community guidelines of the Google.
I am assuming that you have not enabled 'Unknown Sources' yet in the system settings.
Install Magisk manager apk which you have downloaded from above link. Then a pop up says you need to enable Unknown Sources. Tap on the settings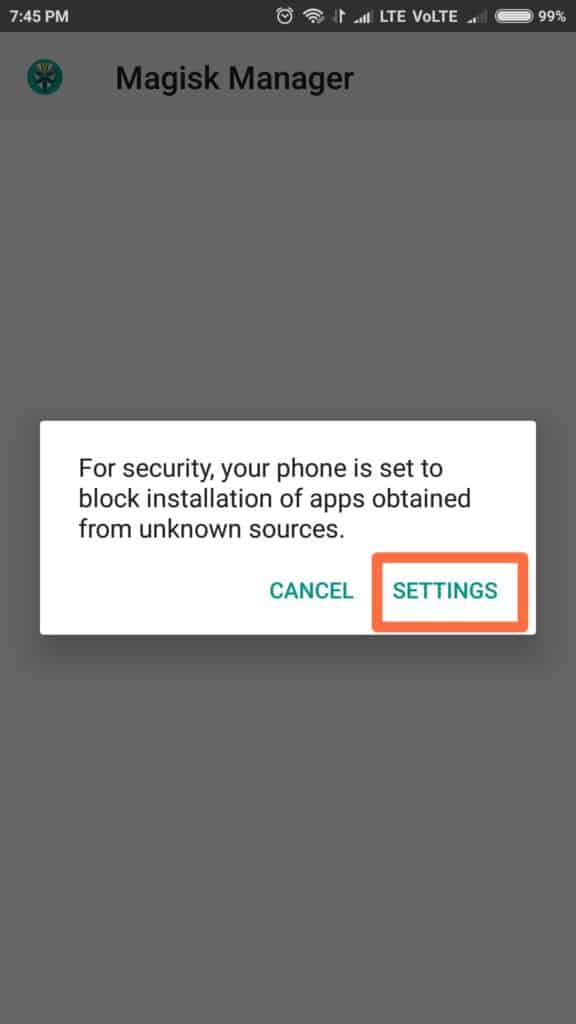 Scroll down to find the Unknown Sources and Toggle it.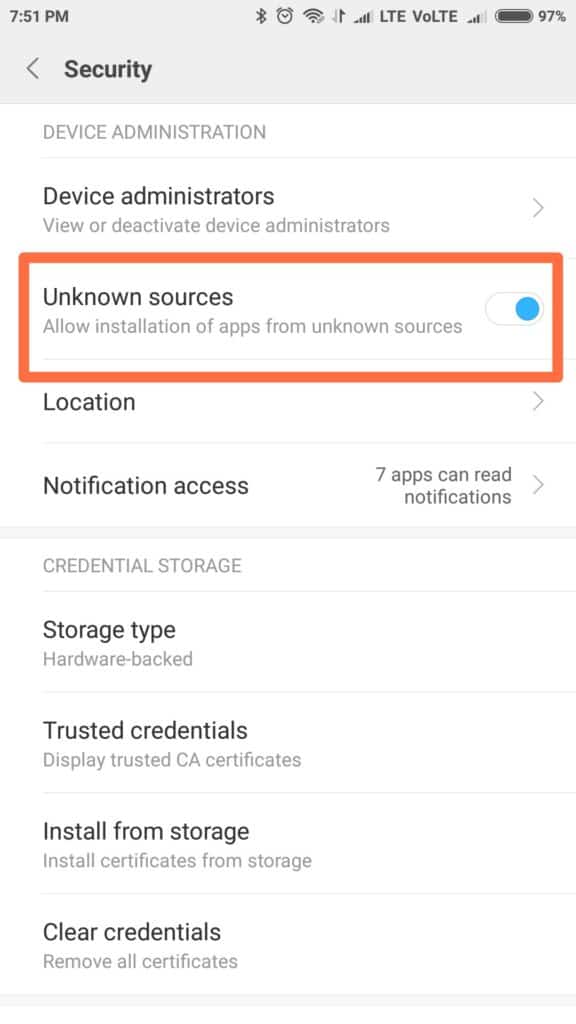 Go back and again Install the Magisk Manager app.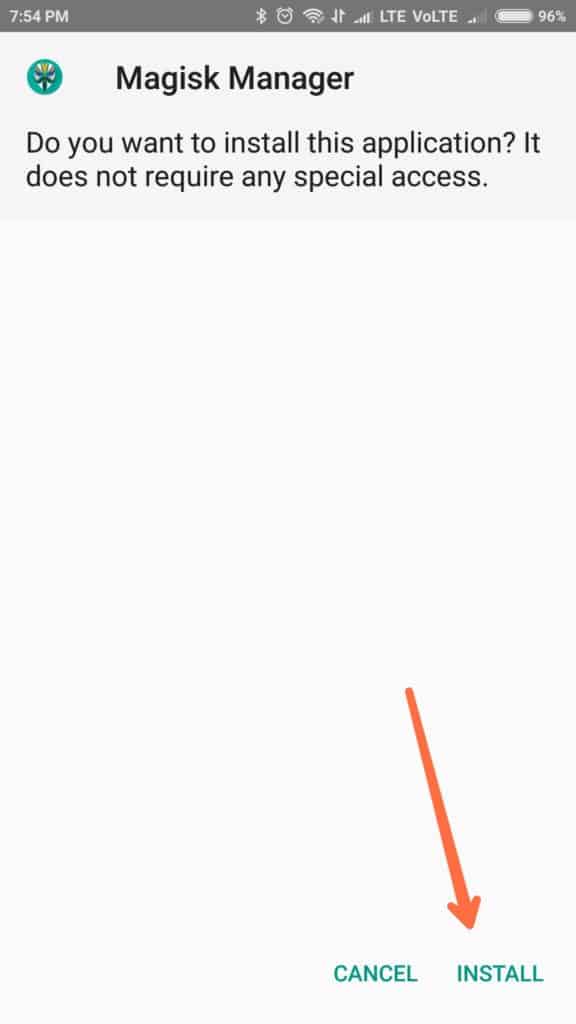 It would take less than one minute to complete the installation process and Open the Magisk Manager.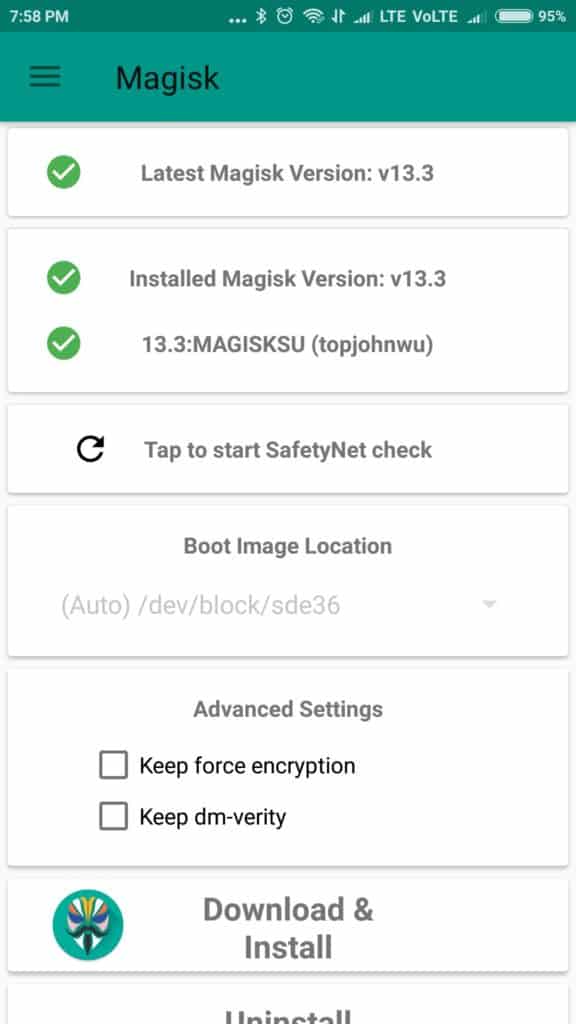 If your device already rooted with SuperSu then continue with the Magisk Benefits. Or if you want to root with Magisk Su binary then follow below steps.
How to Root Android with Magisk Su.
Download latest Magisk v14 zip from the below link
The primary requirement is you have Custom Recovery Installed on your device before proceeding further.
Boot your device into Custom recovery (I am Using TWRP).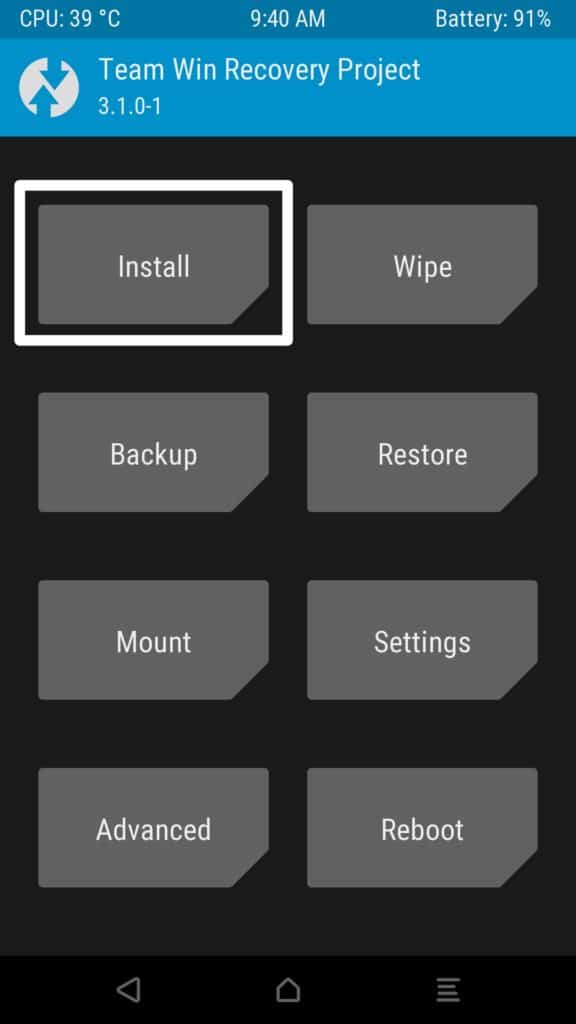 Tap on Install button on the Home of TWRP.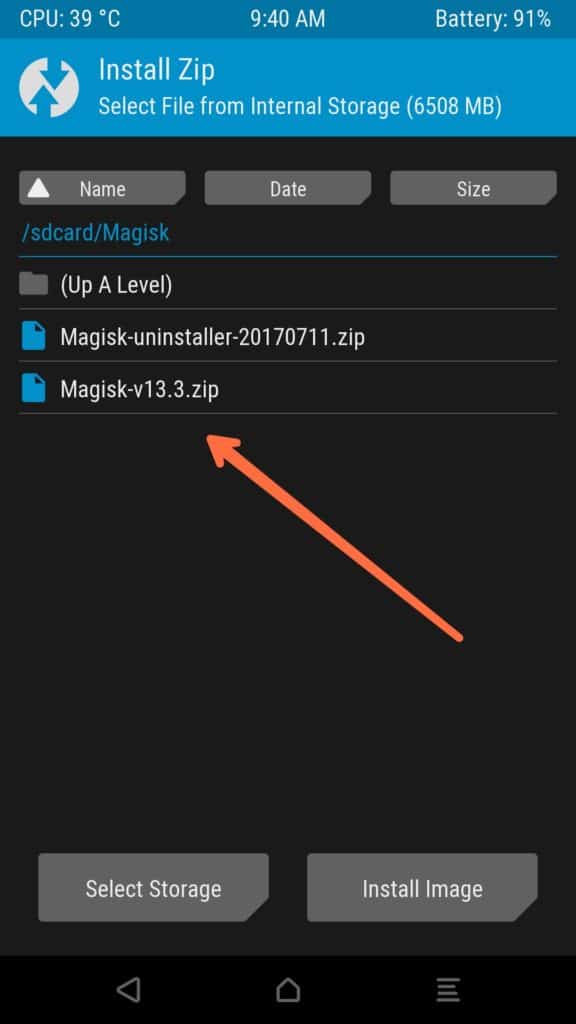 Select the Magisk.zip file from the Directory where you have stored.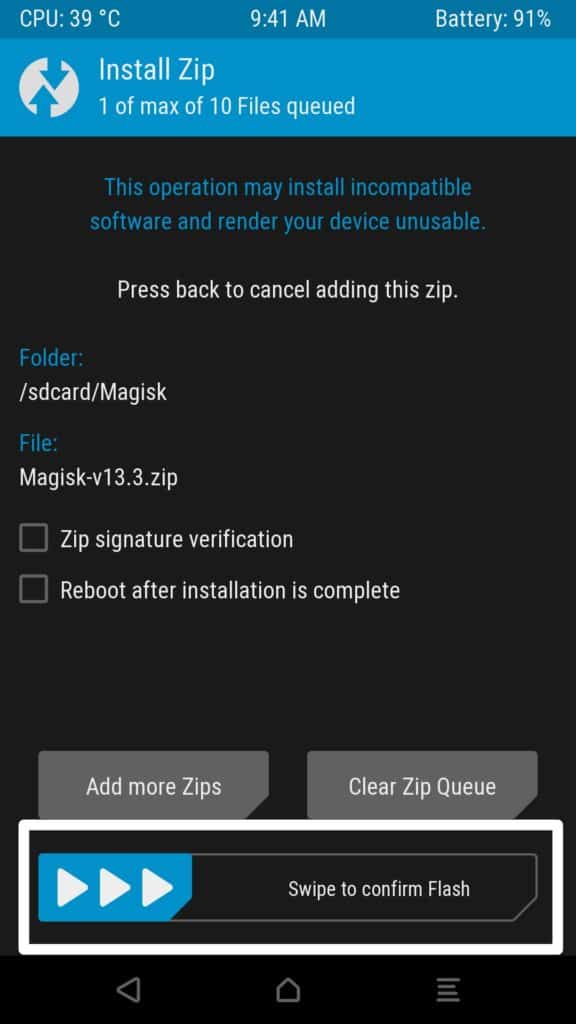 Then swipe the Install button. That's it.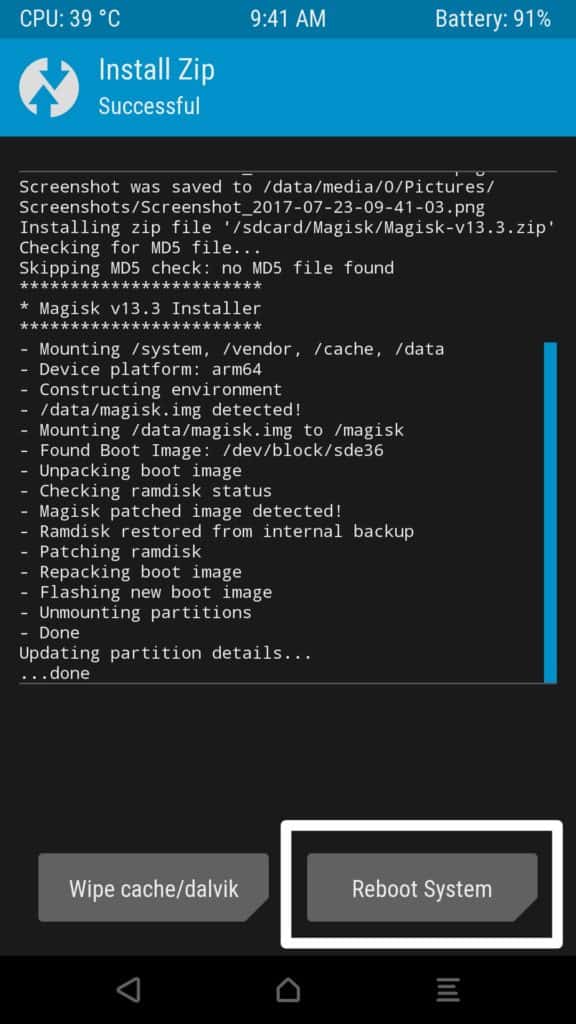 After that reboot your device and open the Magisk Manager to confirm that you have root access or not.
Note:- There is a chance to stuck at bootloop or anything else with your phone after installation. So, I recommonded you to download magisk Uninstaller flashable zip file along with the above one.
How to Download and Install Modules
Open Magisk Manager app and drag the menu from left to right.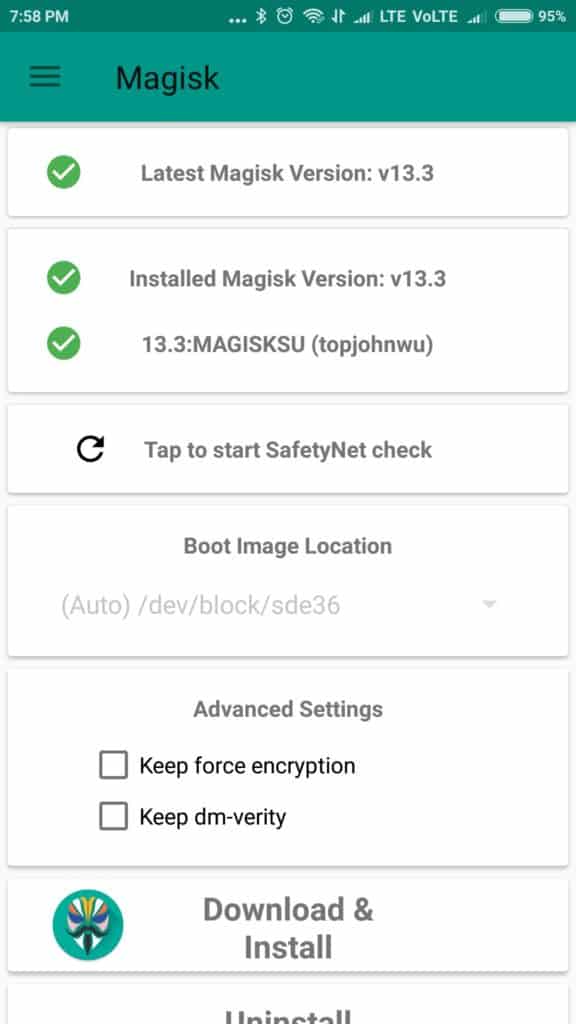 You can see the download section. Click on it.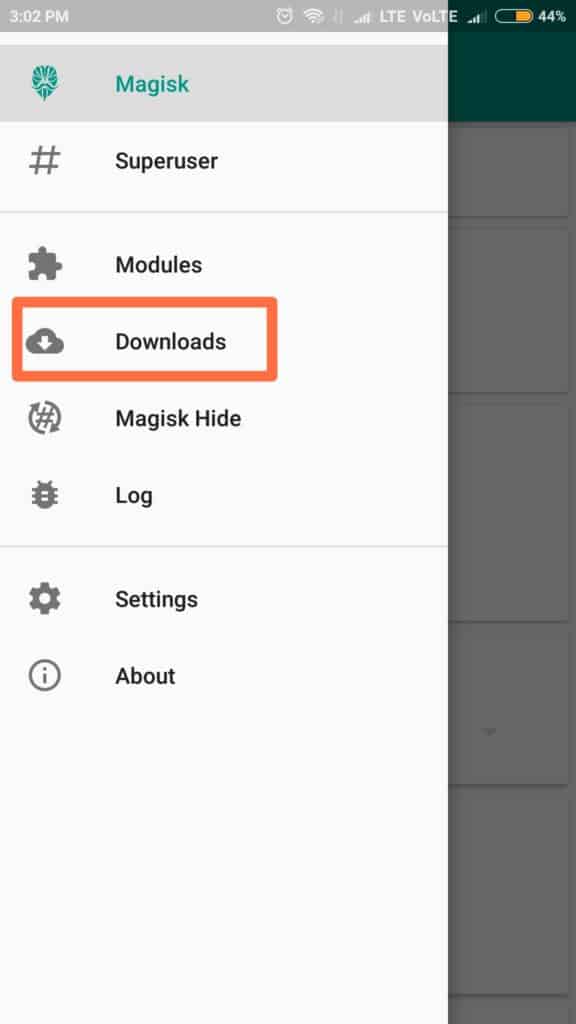 Then you can search the module what do you want.
After choosing the module. Tap on Download Icon as you can see from the below screenshot.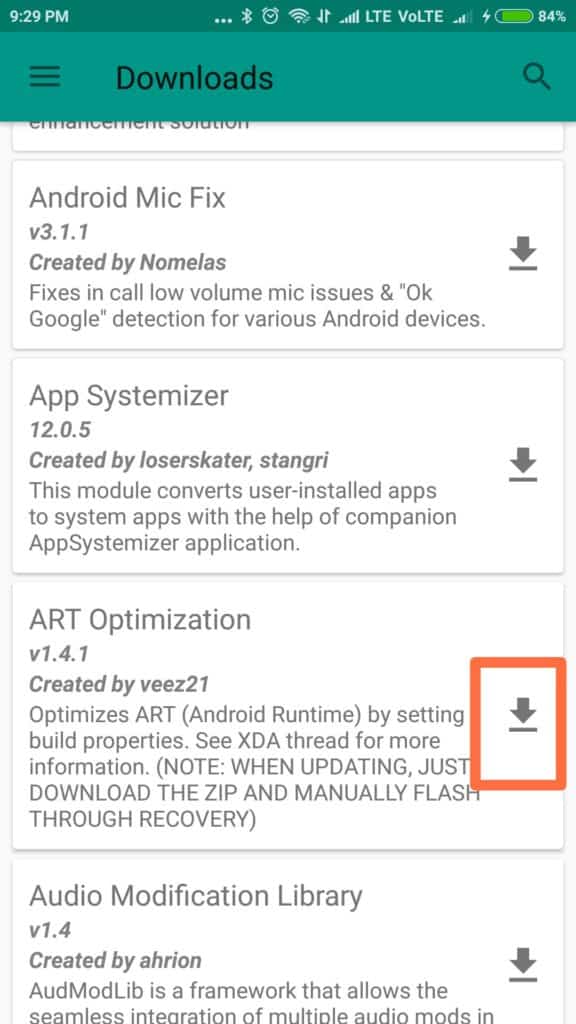 A pop up asks you to download or install the module. If you want to install the module manually, that means by flashing from the TWRP (custom recovery) then click on Download button. The module will save on Storage. If you want to install directly by magisk manager app, you need to click on Install button.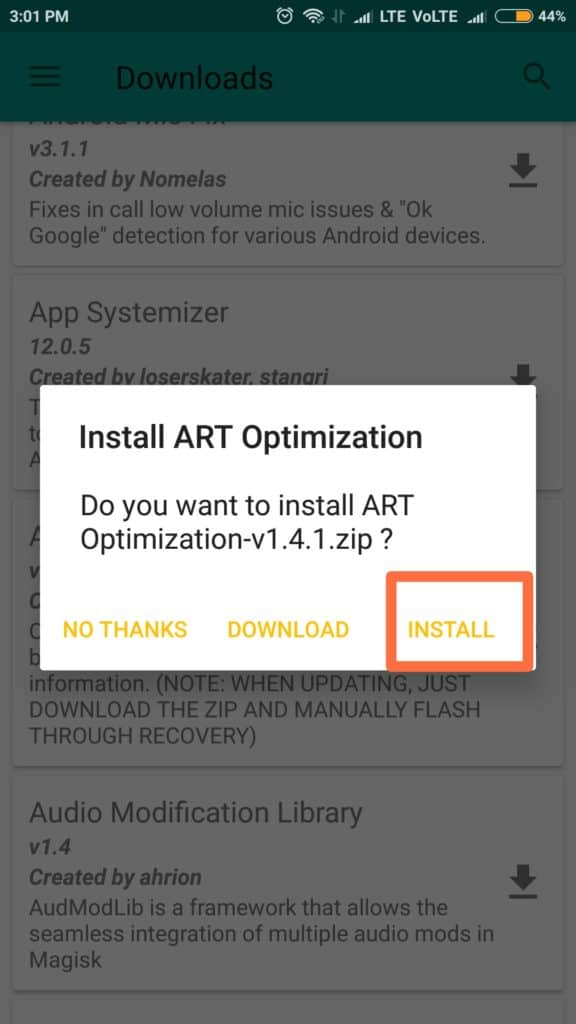 It will automatically download and flash the Module on magisk manager app and then reboot the device to activate the module.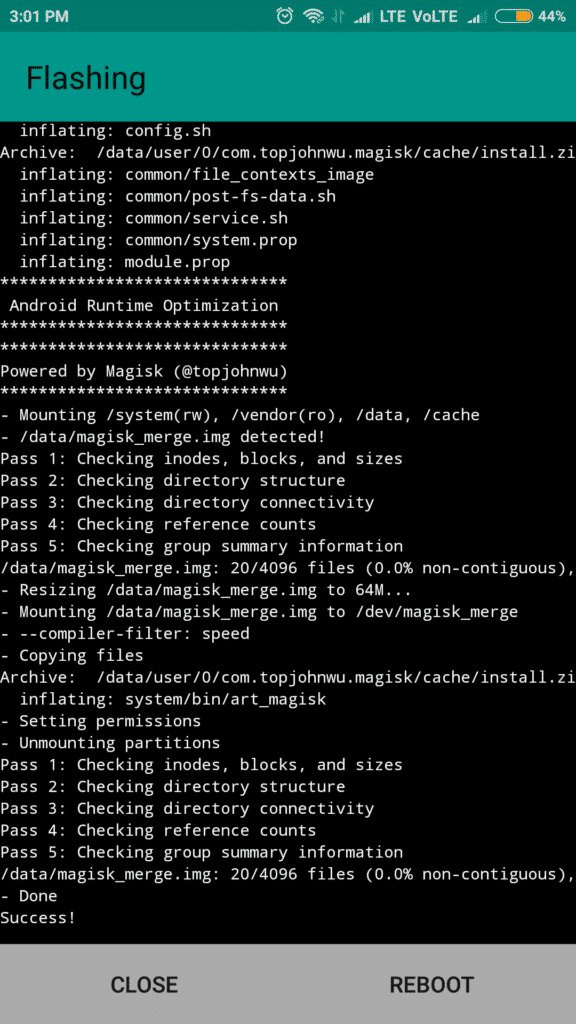 How to Use Magisk Hide
Open magisk manager app and click on the menu icon on the top left corner.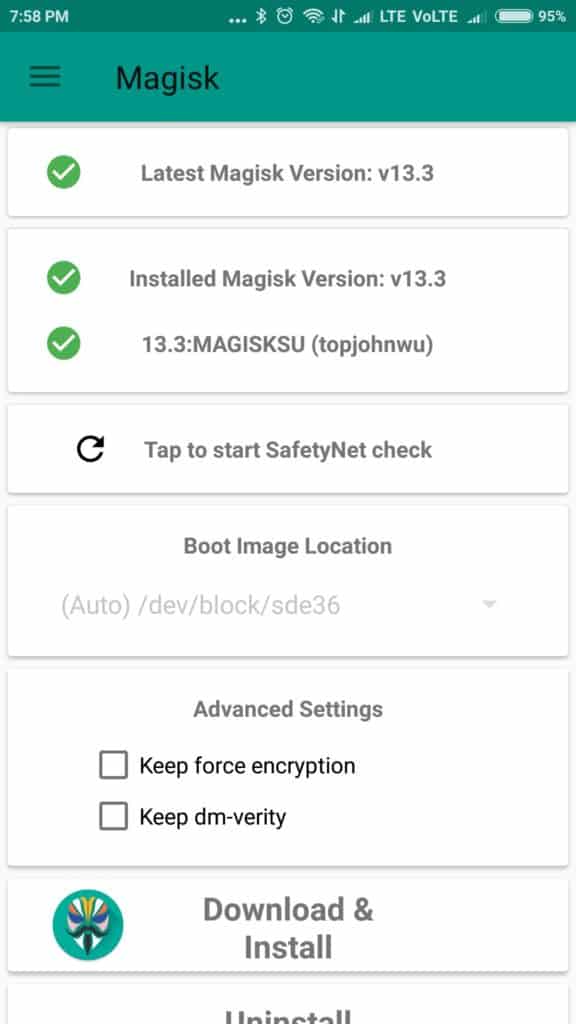 Now, you can see the setting option.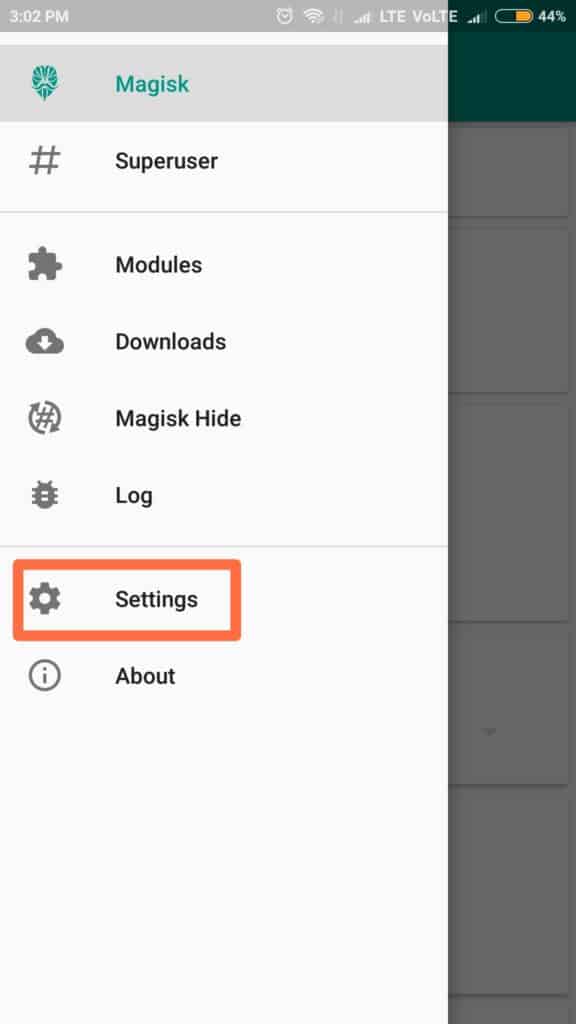 Click on settings and scroll down you will find the Magisk Hide. Toggle it.
Again open a menu and this time select Magisk Hide option.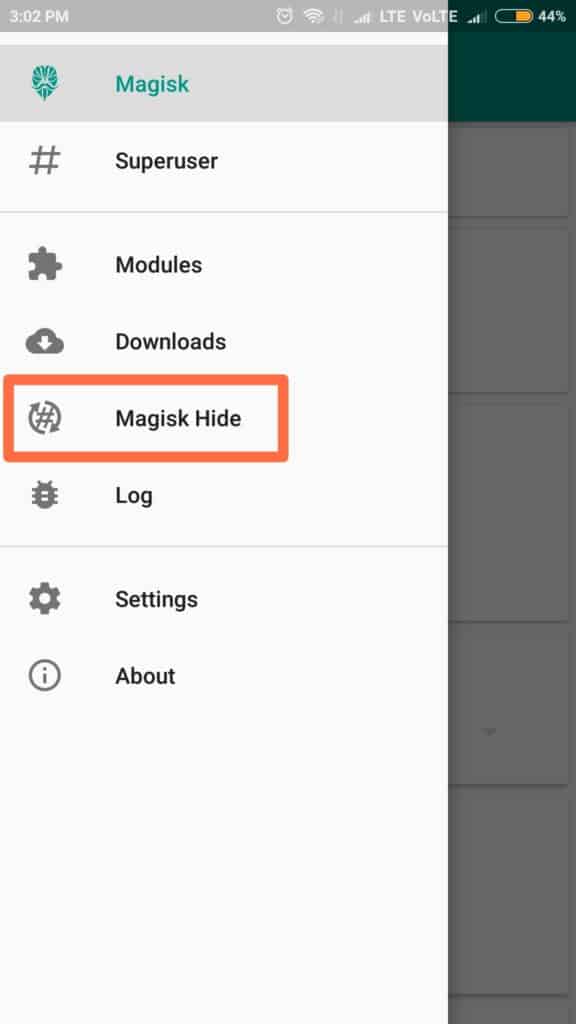 By going through that option, you will able to cover up the root access to the particular app.
How to Uninstall MagiskSu Completely
Open Magisk Manager app, and you can see the uninstall button in the home.
Want to unroot the phone. Proceed by tapping Uninstall button.
You will be asked as like below screenshot.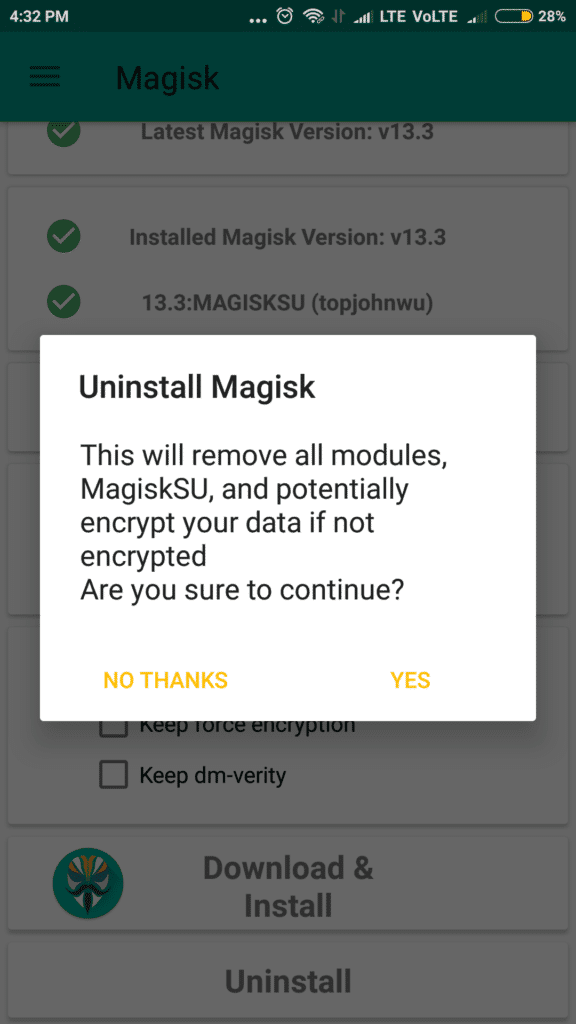 Want to Continue. Just Tap on yes button that will remove the Su binary and All the modules you have installed.
Advantages:
Hide the root access to an app which does not want it.
There are more chances to pass SafetyNet
Run Netflix, Android Pay, Pokemon Go and Banking Applications.
Disadvantages:
Only work on android version 5.0 or above. Nowadays most of the people are using Android 5.0 phones, and very few now are using KitKat devices. There is not much problem with this.
Magisk only supports Gzip compressed boot.img not compressed with lz4.
Changelog (Magisk v14):
[script] Simplify installation scripts
[script] Fix a bug causing backing up and restoring stock boot images failure
[script] Installation and uninstallation will migrate old or broken stock boot image backups to proper format
[script] Fix an issue with selabel setting in util_functions on Lollipop
[rc script] Enable logd in post-fs to start logging as early as possible
[MagiskHide] magisk.img mounted is no longer a requirement
Devices with issues mounting magisk.img can now run in proper core-only mode
[MagiskBoot] Add native function to extract stock SHA1 from ramdisk
[b64xz] New tool to extract compressed and encoded binary dumps in shell script
[busybox] Add busybox to Magisk source, and embed multi-arch busybox binary into update-binary shell script
[busybox] Busybox is added into PATH for all boot scripts (post-fs-data.d, service.d, and all module scripts
[MagiskSU] Fully fix multiuser issues
[Magic Mount] Fix a typo in cloning attributes
[Daemon] Fix the daemon crashing when boot scripts opens a subshell
[Daemon] Adjustments to prevent stock Samsung kernel restrictions on exec system calls for binaries started from /data
[Daemon] Workaround on Samsung device with weird fork behaviors
Changelog (Magisk Manager v5.3.0):
Add hide Magisk Manager feature – hide the app from detection
Add update channel settings – you can now receive beta updates through the app
Proper runtime permission implementation – request storage permission only when needed
Add boot image file patch feature – you can patch boot images without root!
Rewrite Magisk direct install method – merge with boot image file patch mode
Add feature to restore stock boot image – convenient for applying OTAs
Final Words:
Magisk is the best alternative for the Chainfire's Supersu in the aspects of a safetynet check. The major advantage is that you can run the applications which do not run on rooted devices and Google safetynet check.
Share this article with your friends and Comment below if you feel any difficulty.
Keep visiting our blog for Latest news and Root guides of the Magisk.