Want to increase your music listening experience? Want to tweak your Android Audio? Want to enhance your Audio? Are you loving Magisk? If all your answers are "YES"? Then you are at one of the best places to have some different magisk modules. Today, we will discuss the best Audio Equalizer named as Viper4Android FX Magisk Module. V4A lets you tweak the Android audio and enhance your Android music listening experience. Download Viper4Android FX Magisk module and Install with TWRP or Magisk Manager App.
There are several guides available on the internet by considering the Viper4Android Oreo, Viper 4 Android Lollipop, Viper 4 Android Nougat and Viper4Android Marshmallow. But in this Guide, we will provide Unity Installer that let you install the V4A on any android device from gingerbread to oreo irrespective with the Android version. Even there is no official Statement from the V4A developer regarding the Viper4Android oreo.
But V4A working fine with the Latest Android version oreo 8.0/8.1 when you installed v4a with Magisk Manager. I hope this is the best way to install Viper4Android on Oreo whenever compared with another guide which is roaming on the internet. Those needs some technical knowledge and critical steps to be performed.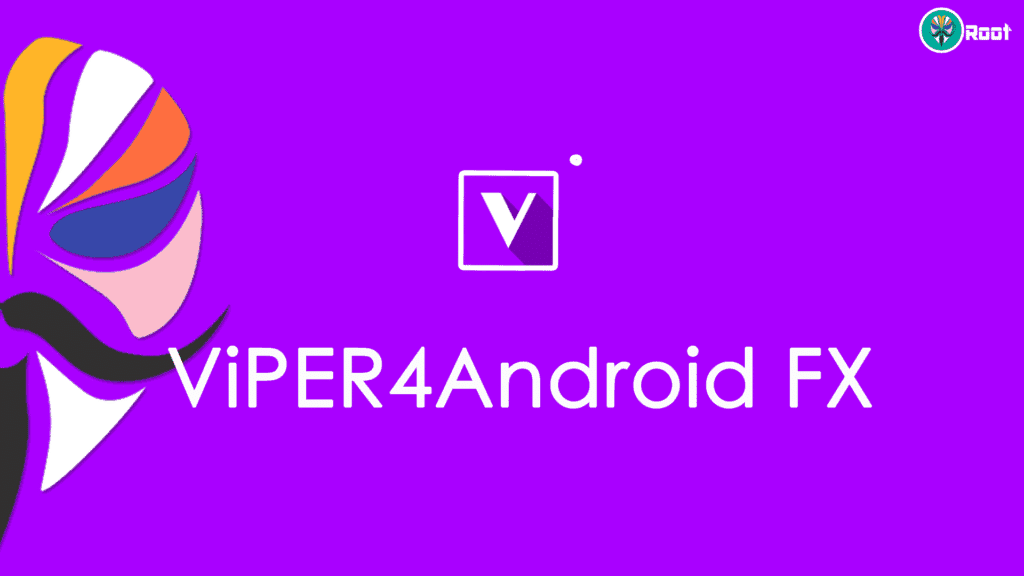 Download Viper4Android FX on Android
Ahrion has ported the Viper 4 Android FX has ported this amazing mod to the Magisk. V4A is also available in the Magisk Repo. My recommendation is to download viper 4 android fx via magisk manager download section. That will give you an updated version and notification when it gets updated. We also provide the Mirror link to the V4A FX if you want to install manually then download it from here.
This Unity Installer automatically detects the Magisk if you install from the Custom Recovery (TWRP). If Magisk is not installed on your device, then it will install in System. That may break the SafetyNet so better to install Magisk before going to proceed with this action.
Install Viper4Android FX systemlessly on your android device if you follow this Guide.
Viper 4 Android Features:
FET Compressor: New compressor/limiter is simulating the operation of FET circuits.
Quad-Channel Convolver: IRS support extends to 4-channels. *Requires particular IRS files*
AnalogX: Richer and warmer sound by simulating the sound signature of pure class A amplifier. *v2.4.x and above+*
ViPER-DDC (Now Customizable!): Enjoy near HIFI sound on your headphones. [Some Models are not Supported]
Spectrum Extension: Make your music sound lossless with enhanced high frequencies.
x86 Platform Support: Viper 4 Android supports x86 (Atom/Core i3/i5/i7) platforms.
USB/Dock effect Support: ViPER 4 Android supports USB/Dock audio output.
Speaker Optimization: First effect for speakers. Try it yourself.
Channel Pan: Controls left/right channel output.
Differential Surround / Haas Effect
ViPER Fidelity Control
Viper Bass: There are different bass modes, you can get the greater bass experience than before!
ViPER Clarity: By Selecting This mode you can get the best Clarity Experience by balancing the Heavy bass.
Headphone Surround+ (VHS+): With this VHS+, V4A made its way to achieve great surround technologies for Android.
Auditory System Protection (Cure Tech+)
Convolver
FX Compatible Mode (Only in 4.x)
Requirements:
How to Install Viper4Android Magisk Module
Step1: Download Viper4Android FX Magisk Module Zip file from the above Download link.
Step2: Open Magisk Manager App and Tap the Menu which is available at the top left corner.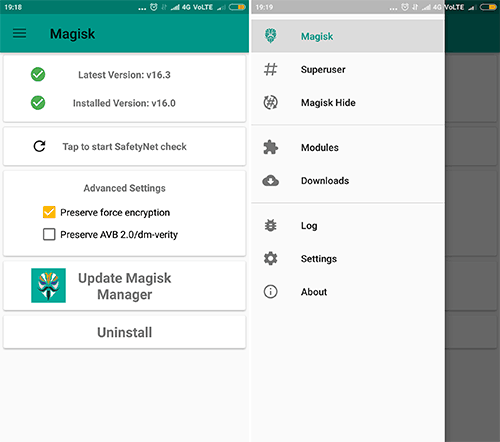 Step3: Now, Choose the Modules option, and By Going through the Modules Section you can see the Plus Yellow Button.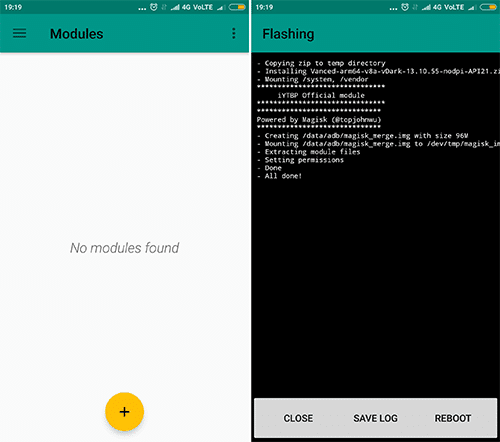 Step4: Tap on Plus Yellow button and Choose the Viper4Android FX Magisk Module from the Storage.
Step5: It will take less than a minute to complete the flashing. Finally, Do Reboot to Activate the module.
How To Download and Install V4A FX via Magisk Manager
Step1: Open Magisk Manager app from the app drawer. Head over to Menu of the Magisk Manager app.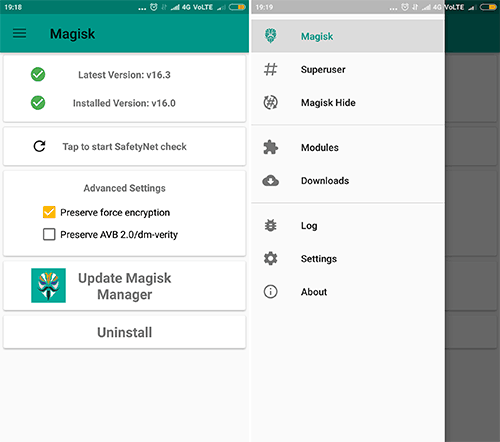 Step2: Now, Open the Download Section on the Magisk Manager.
Step3: Tap on the Search bar. Type Viper 4 Android then you will see the Search results.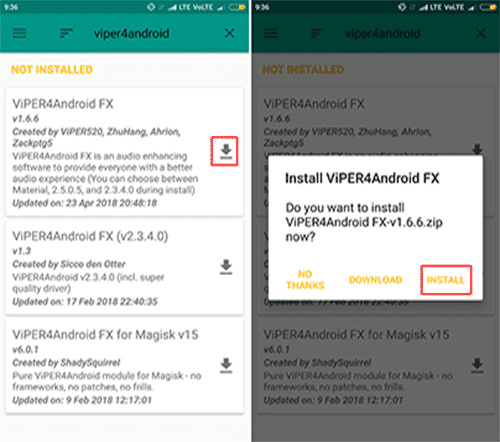 Step4: Choose the Viper4Android FX version from the Ahrion. It Comes with the Unity Installer.
Step5: Click on Download Symbol then it will ask you to direct install. It will take some time to download respective with the Size of the Module.
Step6: Flashing will start automatically when it is entirely Downloaded. But You need to set up the Viper4Android FX while Flashing.
Step7: Click on Volume Up key and Again Volume Up key then Volume Down Key for testing Volume Keys.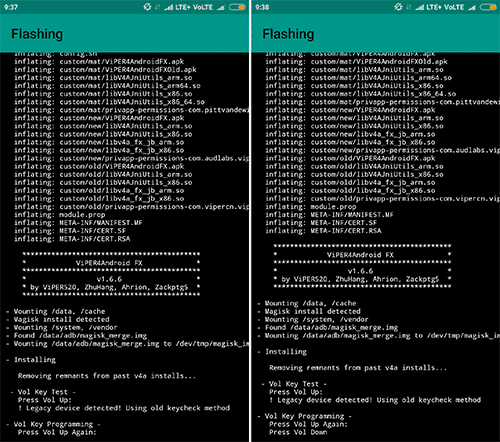 Step8: Now, Select the which version You want either Material or Original by pressing Volume Buttons. Volume UP = Material and Volume Down = Original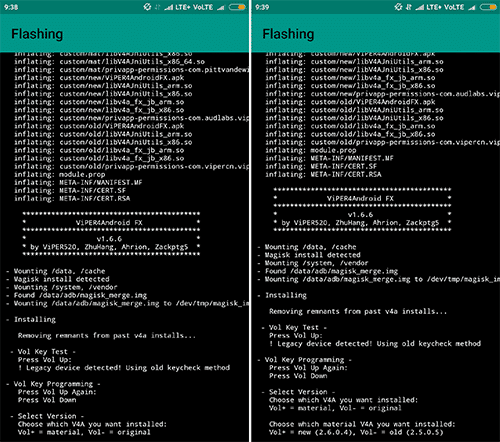 Step9: Finally You need to Select the driver to be installed. That's it for Installation and Reboot. Now, Open the app and make your own Profile.
Conclusion
Successfully you have installed the Viper4Android FX Systemlesslyby using Magisk Manager. Make your own profile and taste the best Sound quality by tweaking this app.
If you have any doubts regarding this article then comment below we will help you out ASAP.